Rainy Day Pale Ale
It's Xmas vacation, and that means it's time to brew.
Recipe
Batch size: 5 gallons
Grain bill:
3.6 kg Pale Malt
500 g Crystal 60
430 g Carapils
110 g wheat malt
Hops:
2 oz Cascade pellets (8%?) FWH
2 oz Cascade pellets @ 20
1 oz Cascade pellets @ 5
2 oz 2011 2011 homegrown hops @ 5
Yeast: Good ol' Wyeast 1056
Brew Day
December 27, 2012: Mash was at 70 C, which was a nice even 5 C drop in the strike water temp. 7.5 gallons went in, and 6 gallons of wort came out. It was not raining out, despite the title, so I brewed outside:
My kids came out to watch; the youngest stayed to help.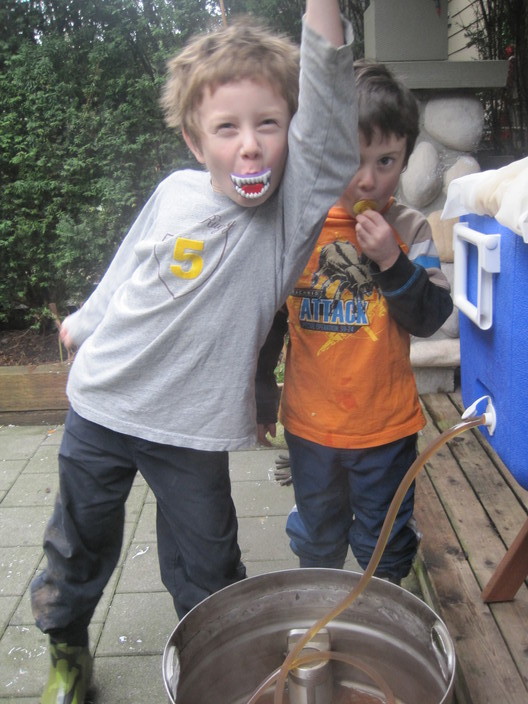 The keggle was converted by my father-in-law, a retired millwright; he wrote the year (2009) and his initial using an angle grinder.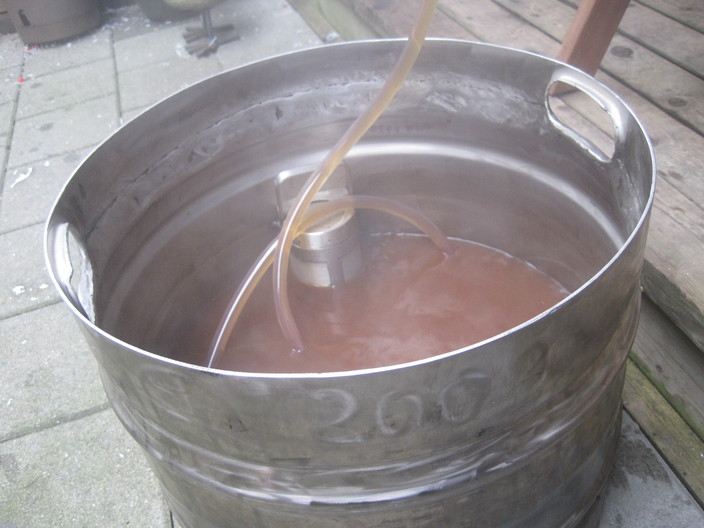 The gravity was 1.050, so I got decent efficiency for a change -- not like last time.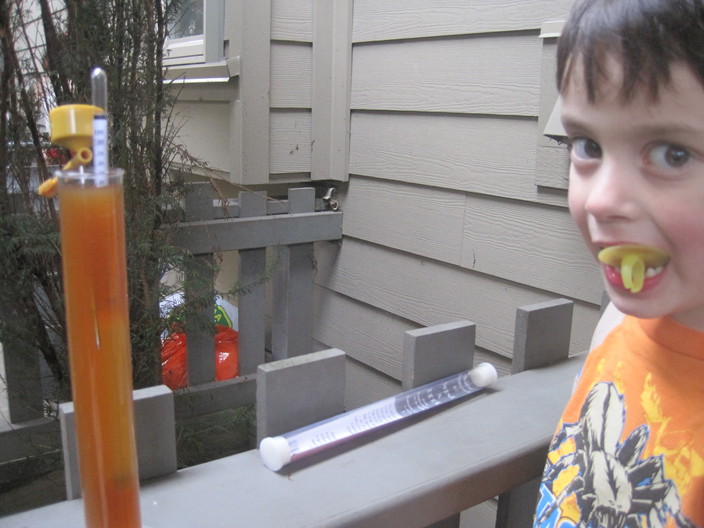 On a whim, Eli decided to make the 60 minute hop addition a FWH instead: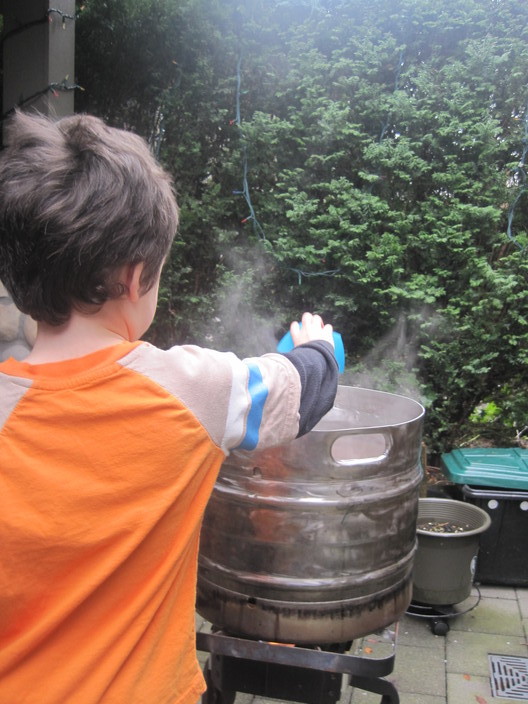 Ah, the aluminum dipstick. No homebrewer should be without one.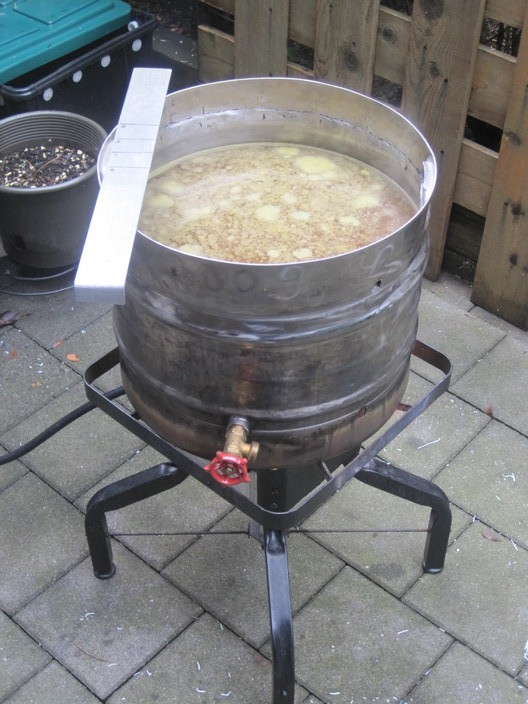 Eli demonstrated his command of Le Parkour...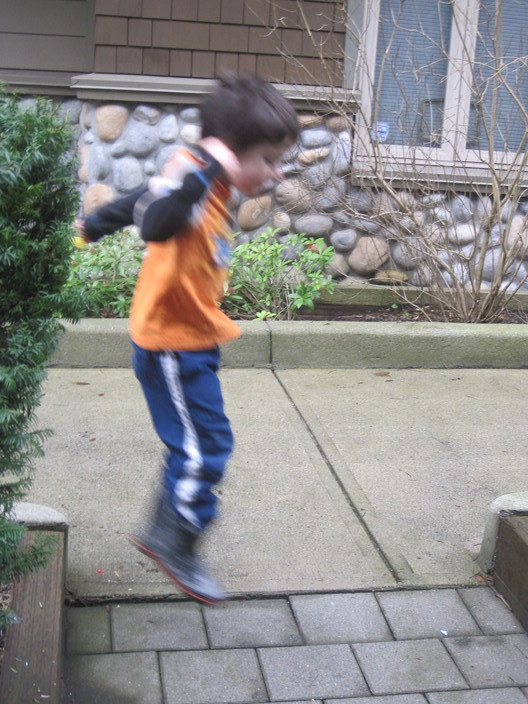 and The Slide: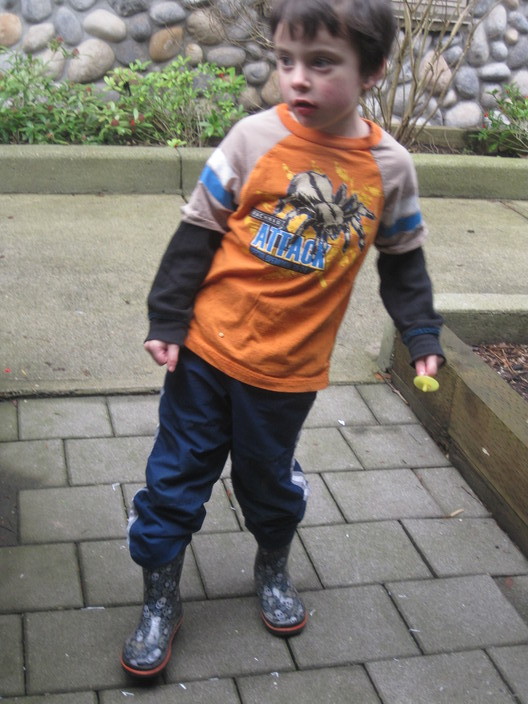 "Hey, it's Old Man Brown, sittin' on his porch an' eatin' soup an' making moonshine again!"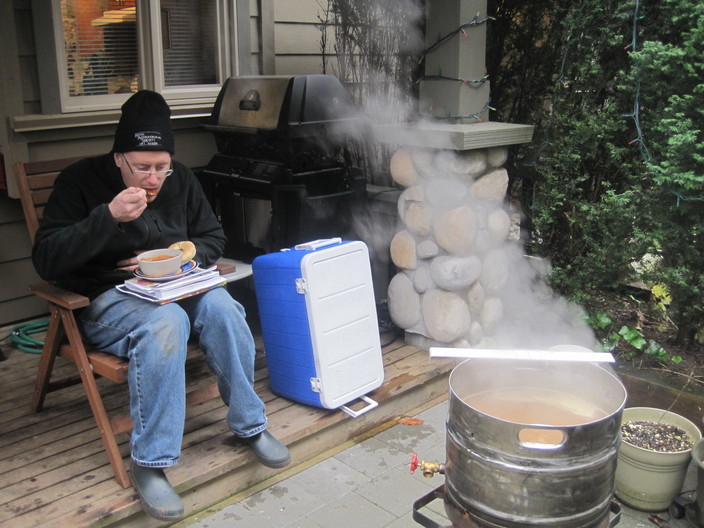 Eventually it was time to pitch the yeast. We took turns. I took this one of Eli...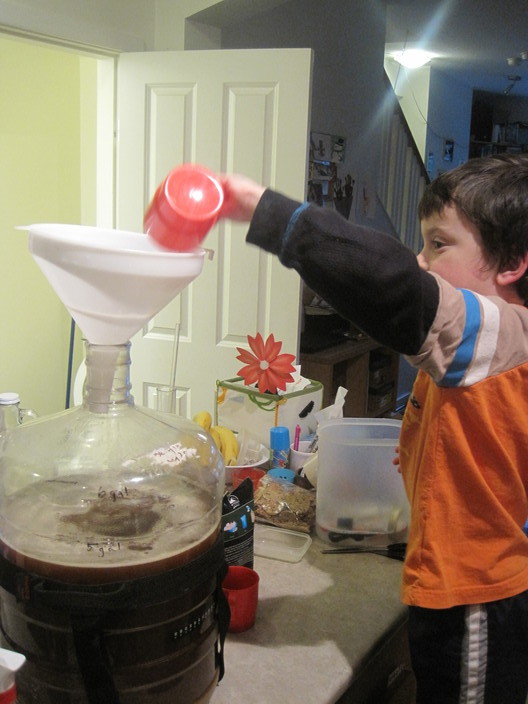 ...and he took this one of me: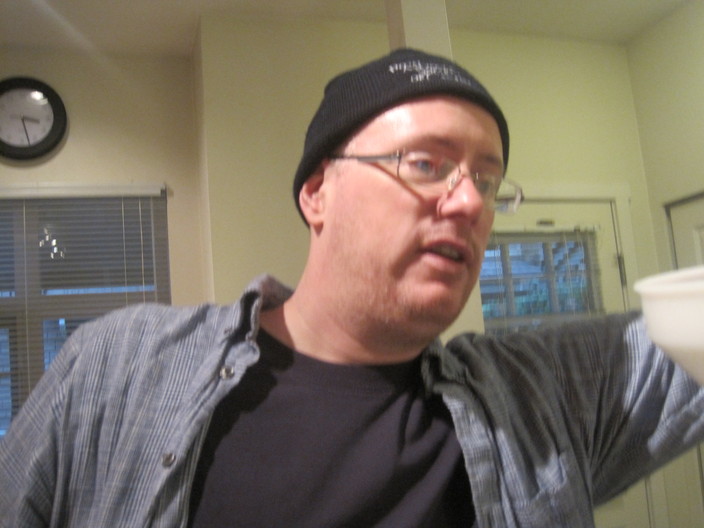 Isn't it beautiful? Oh, and the OG was 1.062.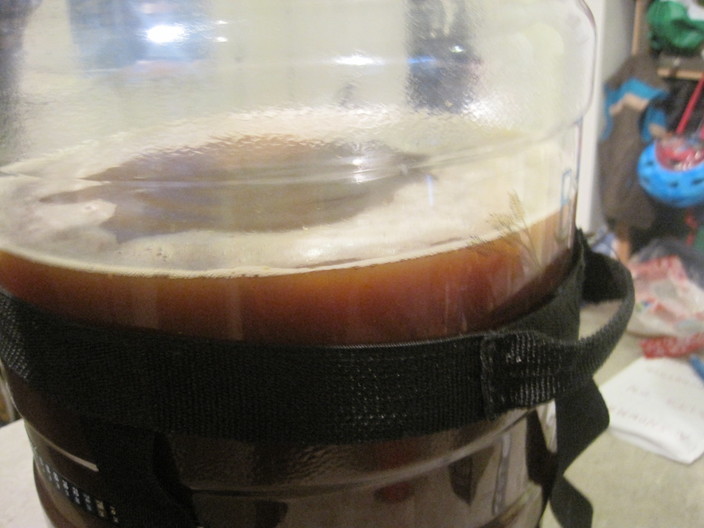 Fermentation
January 6, 2013: Dry-hopped with an ounce of Citra and and an ounce of Cascade in a hop sock, weighed down with a spoon to keep it under the surface.
Bottling
January 12, 2013: Smells wonderful. There's some kind of trub, or maybe it's just yeast, that's taking a long time to settle. Reminds me of the BirthdayIPA. FG 1.013, which makes this 6.4%. Hydro sample tasted amazing: fruity, citrusy, bittersweet, smooth mouthfeel -- just incredible. About 14.5 litres yield
Tasting
Jan 29, 2013: Oh, this turned out nice. The sweetness is noticeable and a little cloying; I would not use the crystal in this again. Aside from that, though, this is very, very good. I gave some to a coworker, and she said her husband thought it was the best he'd tasted since the last Rogue he'd had. High praise!
Thoughts for next time: take out the crystal and put in some rye. Or maybe biscuit.