Meteor shower
13 Aug 2012
This weekend I took the kids out to Aldergrove Regional Park to the Perseid meteor shower party, organized by Vancouver Parks and the local chapter of the RASC. I went last year with my older son, and the younger was quite eager to go this time around. (Clara was happy we were all going this time, too; last year, the younger stayed up 'til 10pm waiting for his brother, and woke up at 5am upset he wasn't back yet.)
We packed up the tent, flashlights, sleeping bags, PB&J, water bottles, stuffies, binoculars, pillows, lounge chairs, blankets, star atlases, and drove out. We got there at 8.30pm or so and it was already packed. The kids help me set up the tent, and then we were off to the activities.
First we got glow sticks:

And then we went off to get faces painted. That didn't last long, though; we'd already had a very long day with my inlaws and relations by that point, and the kids were bagged. We ducked out of the line after a few minutes, got hot chocolate, then went back to the tent to look at the sky for a while.
Sr. headed off to bed, announcing he "might put his head down for a while". Jr. went with him, but came out in time to watch the ISS fly over. Sr. poked his head out as well, then went back to sleep. Jr. stayed up a little longer, then went to bed about 10.45pm, and I was left with 800 or so of my closest friends.
It was really neat watching the shower with so many people around. There was a park-wide game of Marco Polo, which was funny. And as for the meteors, even before midnight there were a few really bright trails, and everyone would ooh, ahh, and even applaud.
I fell asleep in my lounge chair around 11.30pm, then woke up again about an hour later. There were some really cool trails, but I wouldn't say there was a huge number...I saw one maybe every 2-4 minutes. I finally called it a night at 2am and crawled into the tent.
We got up about 6.30am, ate our PB&J, and started packing up.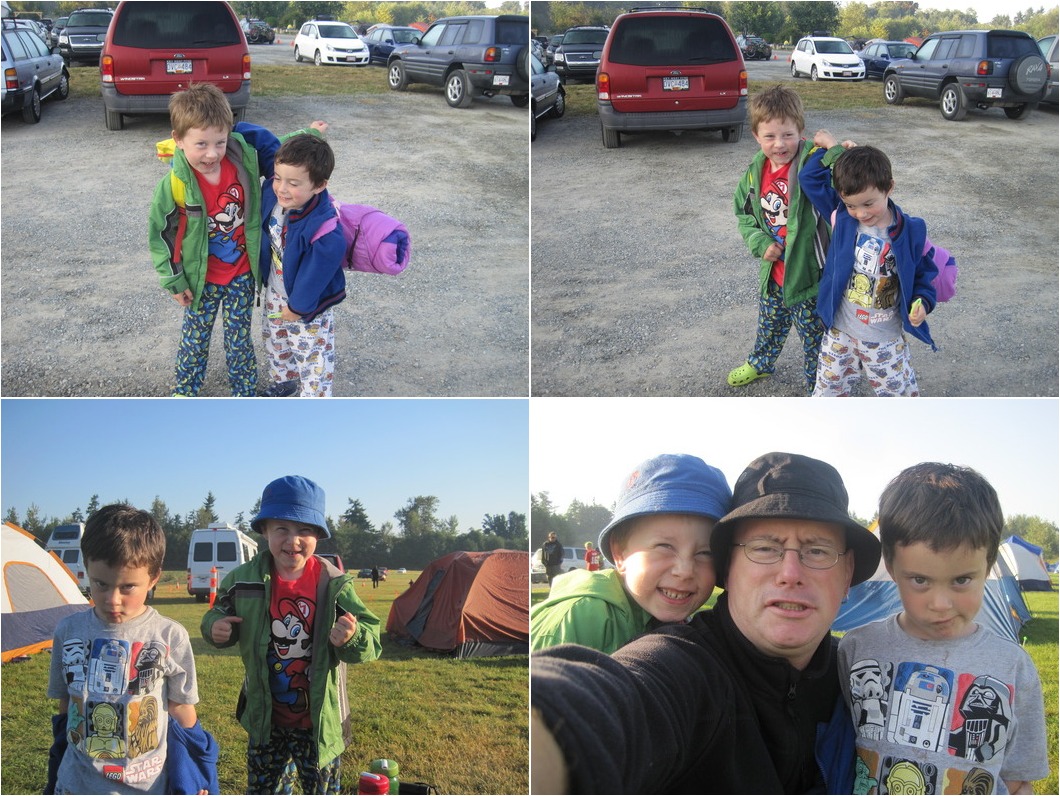 We picked up some godawful sweet snacks at a gas station (we did it last year, had to do it this year, next year I'm putting my foot down) and drove home. The kids fell asleep in the back, and then again for two hours in the afternoon...and that never happens.
All in all, a fun time. Recommended if you're in the Vancouver area.